Monte delle Vigne is rooted on the hills at 300 meters of height, which lead from the Po Valley to the highest peaks of the Tuscan-Emilian Apennine. The ancient route taken by pilgrims is the divide between the vineyards of white grapes of Malvasia and Sauvignon facing East and red grape vineyards of Barbera, Croatina and Lambrusco facing West.
They are interspersed with hedgerows and some semi-flat areas that offer Merlot and Chardonnay. In the middle, the heart of the property, there is the new underground winery that allows gravitational wine pressing. Perfectly integrated into the surrounding environment, it has been designed to achieve the highest quality results from what nature offers.
1983
In 1983, Andrea Ferrari began his business venture and founded Monte delle Vigne on these hills. This wine-making project is based on the belief of producing excellent wines working local vines. The first farm was 15 hectares, 7 of which arranged as a vineyard, and it was equipped with a small winery.
1992
Nine years after its foundation, they produced Nabucco, the first still red wine made in Parma. It is a grape blend between Barbera wine (70%) and Merlot wine (30%) that ages in French oak barrels for 12 months. Nabucco became immediately a symbol of Monte delle Vigne and Parma, since they had produced sparkling wine only in that area until then.
1999
They produced Callas, pure Malvasia di Candia Aromatica and local white wine par excellence. The extraordinary longevity still let you find freshness, minerality and floral notes in the 1999 grape harvest.
2000
They planted 9 hectares of vineyards: 6 Hectares of Barbera, Merlot and Malvasia wines in the Bella Foglia plot; 3 hectares of Barbera wine in the Vignafutura plot. To date, they represent the most solid basis of Nabucco, Callas and Argille wines in terms of quality.
Moreover, they also acquired 4 additional hectares: 3 hectares of Malvasia di Candia Aromatica wine and 1 hectare of Barbera wine. Therefore, they got a total of 20 hectares.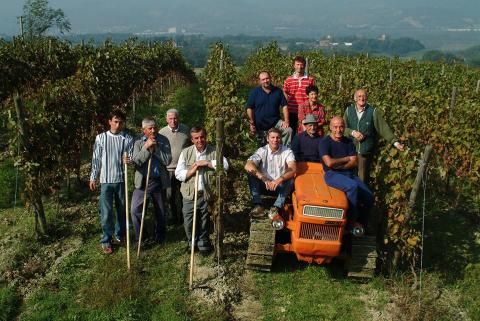 2003
The winery started to be too narrow to house a tripled amount of grape and, at the same time, they felt the need to compete on the world markets, so this means changes. These needs led to the meeting with Mr. Paolo Pizzarotti, enlightened Parmesan entrepreneur, who owns a wonderful farm of 100 hectares exactly on the border with Monte delle Vigne vineyards.
2004
Andrea Ferrari and Paolo Pizzarotti found an agreement. Beyond the passion for the land, they are united by the same identity of views and the sharing of the same project: producing high quality wines while respecting a sustainable wine-growing. Paolo Pizzarotti entered as majority shareholder in Monte delle Vigne winery and the company underwent a remarkable influence.
2005
They planted 10 new hectares of vineyard and it was the same in the following three years. At the end of 2009, the total planted hectares were 40 and the new overall production could rely on 60 hectares divided between Malvasia, Sauvignon and Chardonnay for white grapes and Barbera, Merlot, Croatina, Lambrusco and Cabernet Franc for red grapes.
2006
A fine 2006 viene inaugurata la nuova cantina, raro esempio di efficacia operativa e bellezza architettonica.
Le scelte tecniche del produttore Andrea Ferrari, la capacità realizzativa di Paolo Pizzarotti e le soluzioni architettoniche tracciate dall'architetto Fiorenzo Valbonesi, danno vita ad un magnifico complesso produttivo totalmente integrato con la natura circostante.
Nel 2006 nasce inoltre Argille, una Barbera in purezza che evolve due anni in barriques prima di andare in bottiglia.
2007
They produced Rubina, a Rosè sparkling white wine obtained by Barbera grape through long Charmat method.
2010
They made Franc. "Chiuso del lago" is a plot of 1.30 hectare surrounded by woods and a wonderful lake.
In 2010, we got 50 hectolitres of Cabernet Franc: 25 hl were aged in bottle after a year in steel, while the other half matured for two years in oak barrels. Two interpretations for a great vine.
2012
They made two important Lambrusco wines: I Calanchi and i Salici that complete a path in the Lambrusco world; in this case, Maestri strain, a Parmesan varietal. The last extreme synthesis of this research is a fermentation in the bottle that reveals the typical characteristics of this important vine.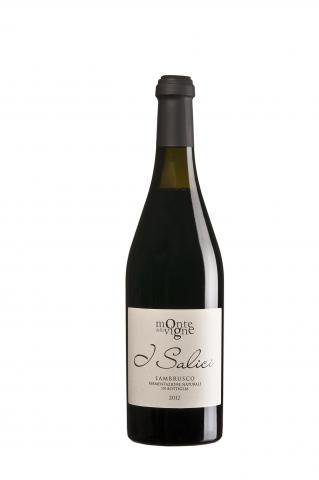 2013
They produced Sogni. A very fresh and mineral white wine, synthesis of the best grapes at the company.
The wine is dedicated to "Fai Bei Sogni", the film shot in Monte delle Vigne vines by director Mr. Marco Bellocchio.