eventi
APERISTREET IN VIGNA
APERISTREET IN VIGNA,

glamorous

GLAMOROUS

APERITIF OF THE SUMMER!

SEE YOU NEXT YEAR!!
APERISTREET IN VIGNA,

glamorous

GLAMOROUS

APERITIF OF THE SUMMER!

SEE YOU NEXT YEAR!!
Every
Thursdays
we welcome
wine lovers
in a poetic and enchanting setting: our vineyards at sunset.
Here you can savor our finest wines and breathe in the magical atmosphere in which they are born, all paired with our vision of street food, based on attention to the consumption context and product quality. Food truck with different proposals and a new guest each week, as well as cheeses and cold cuts typical of the Parma area. Each evening is an amazing taste experience, in a place where wine merges with nature, becoming one with the colors and magic of summer sunsets.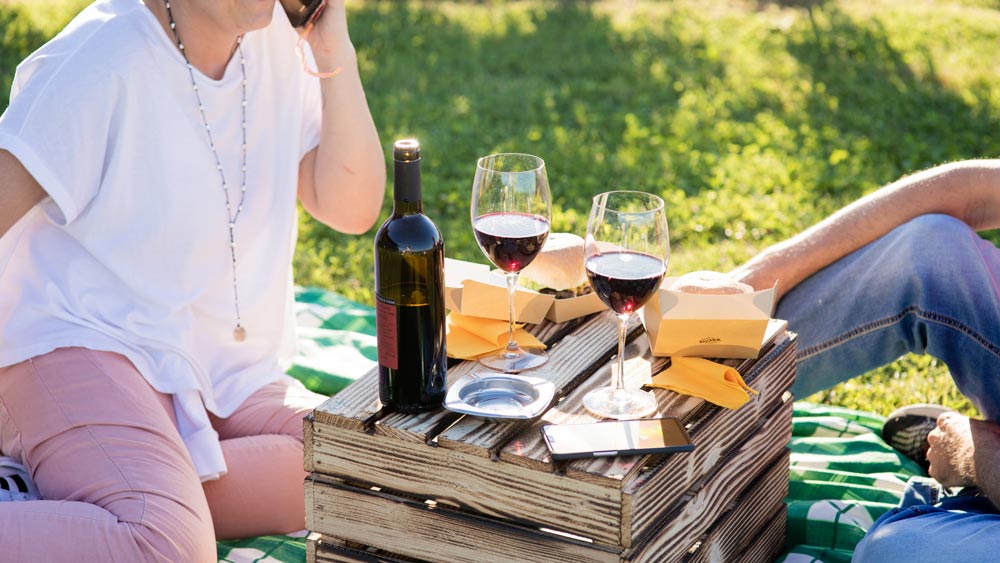 *Price intended per SET (CASSETTE + BLANKET for 5 people) and not per person. Reservations will close at 6 pm on the same day. In case of change in the number of people booked please write to info@montedellevigne.it or call.
The cost of the reservation with online payment (€10.00) is returned as a voucher of equal value for the purchase of a bottle of wine during Aperistreets. The discount voucher will be given at the accreditation counter in the lobby.
From 7 p.m., you can experience special moments, sipping Monte delle Vigne wines paired with dishes offered by food trucks, all to be enjoyed in picnic format. Spend the evening admiring the sunset in company!
Reservations are required:
• Making a reservation, you must choose thetime of arrival.. Entry is allowed within 30 minutes from the selected time, and stay is allowed in any case until midnight. (Staggered entry times 7 p.m. / 8 p.m. / 9 p.m.)
• upon your arrival, report to the accreditation counter to collect your coupon token to use at the cash register.
each reservation corresponds to a seat that includes a blanket and a small box that becomes your table.
Pick up your SET at the distribution point and take a seat on the lawn.
• consumptions are excluded and glasses will be delivered on deposit (5.00 € per person)
• a Set is recommended for a maximum number of 5 people, if you are a larger group you can book multiple sets and indicate in the notes the nr. of people for each.
• entry is allowed only by reservation and in the time slot to avoid queues
• You must show your confirmation email to access the event
Il rimborso della prenotazione è previsto SOLO in caso di annullamento dell'evento, nel caso fosse impossibile partecipare viene mantenuta la prenotazione per un evento successivo durante tutta la stagione. L'annullamento da parte del cliente e la nuova prenotazione andranno comunicate via mail.