eventi
APERISTREET IN VIGNA
APERISTREET IN VIGNA,

glamorous

GLAMOROUS

APERITIF OF THE SUMMER!

STAY TUNED, WE WILL BE BACK IN JUNE 2023
APERISTREET IN VIGNA,

glamorous

GLAMOROUS

APERITIF OF THE SUMMER!

STAY TUNED, WE WILL BE BACK IN JUNE 2023
Every Thursday we welcome wine lovers in a poetic and enchanting setting: our vineyards at sunset.
Here you can savor our best wines and breathe in the magical atmosphere in which they are born, all paired with our vision of street food, founded on attention to the context of consumption and the quality of the products. Food trucks with different proposals and a new guest every week, as well as cheeses and cured meats typical of the Parma area: each evening is an amazing taste experience, in a place where wine merges with nature, becoming one with the colors and magic of summer sunsets.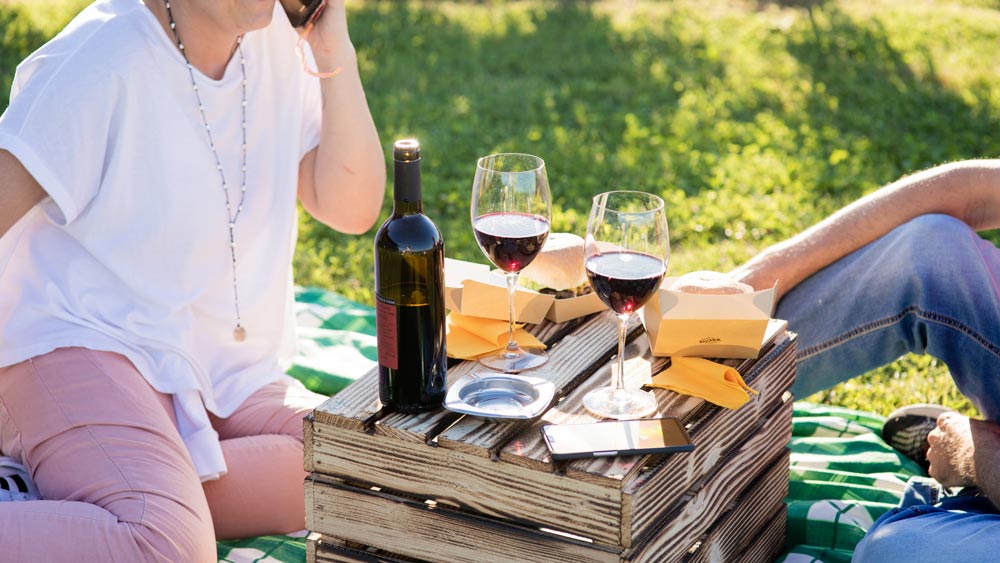 Price intended per SET (WOODEN CRATE + BLANKET for up to 5 people) and not per person. Reservations will close at 6 pm on the same day. In case of change in the number of people booked please write to info@montedellevigne.it or call.
The cost of the reservation with online payment (€10.00) is returned as a voucher of equal value for the purchase of a bottle of wine during Aperistreets. The discount voucher will be given at the accreditation counter in the lobby.
From 7 p.m., you can experience special moments, sipping Monte delle Vigne wines paired with dishes offered by food trucks, all to be enjoyed in picnic format. Spend the evening admiring the sunset in company!
Reservations are required:
• Making a reservation, you must choose thetime of arrival.. Entry is allowed within 30 minutes from the selected time, and stay is allowed in any case until midnight. (Staggered entry times 7 p.m. / 8 p.m. / 9 p.m.)
each reservation corresponds to a seat that includes a blanket and a small box that becomes your table.
Pick up your SET at the distribution point and take a seat on the lawn.
• consumptions are excluded and glasses will be delivered on deposit (5.00 € per person)
• a Set can accommodate up to a a max of 5 people, if you are a larger group you can book multiple sets and indicate in the notes the nr. of people for each.
• entry is allowed only by reservation and in the time slot to avoid queues
• You must show your confirmation email to access the event
Refund of the reservation is provided in case of cancellation of the event, in case it is impossible to attend the reservation is kept for a later event throughout the season. Cancellation by the client and new reservation should be communicated by email.
SCOPRI IL MENU'
Tortelli di patate con a scelta soffritto o funghi (Osteria dei Mascalzoni)
Focaccia con spalla cotta e cipolle caramellate (Osteria dei Mascalzoni)
Tagliere di affettati e parmigiano con pane (Antico Casale delle Vigne)
Panino con strolghino e fonduta di parmigiano (Antico Casale delle Vigne)
Hamburger di Black Angus (Meat & Co)
Spiedino di Black Angus e luganega (Meat & Co)
Pizza Margherita (I Due Gatti)
Pizza bufala e pomodorini (I Due Gatti)
Bicchierino con Cremoso al Lampone, pan di spagna al cacao e croccante alla mandorla (Bombè)
Sfoglia con Crema Chantilly e amarene candite (Bombè)
Cannoncini con zabaione o crema pasticcera (Bombè)
IL MENU' VIENE AGGIORNATO OGNI LUNEDI' PER IL GIOVEDI' A VENIRE (CON POSSIBILI CAMBIAMENTI)
CHOOSE THE DATE
 SEE YOU IN JUNE 2023